Well, it was a nervous day for me today. My 00R came to me with a few minor dings from the previous owner. I can only assume it sat in his garage under a cover and he bumped into it a few times. I searched high and low for a mobile PDR guy to come out to the house and hit some of my cars. I quickly discovered that most decent PDR guys have their own shop around here or if they are mobile, they only cover Dallas and not my side of the metroplex. I finally tracked down a guy that agreed to come out to the house. I had him start on my old 89 and subsequently move on to my son's 02 GT. Needless to say, his work was poor and there was no way in heck I was going to let him touch the R. I paid him fully and sent him away.
Flash forward to today. I have a fantastic PDR guy I have used quite a few times. Problem is he is a big drive from where I live and he does not do mobile work. So, yesterday I hit Uhaul and rented a car-hauling trailer. I did not want to drive the R on a big round-trip for some work. With the help of my sons, we successfully got the car onto the trailer late yesterday. First, I removed the front splitter - there is no way the car would go on a trailer with it installed. The biggest remaining obstacle was the low-hanging mufflers and side exhaust. I positioned the trailer so that the ramps were as flat as possible. This required a little "off-roading" with the R in the grass. My youngest had the brilliant idea to use my old wooden ramps to get the car off the driveway. That kept the exhaust from hitting once the front wheels left the driveway. Then, with a close watch and guidance from my boys, I slowly drove the car onto the trailer. Success thus far, but a long way to go...
This is when I confirmed that I could not open the door to get out. With shoes removed, out the window I climbed. I then raise the passenger's window, but had to leave the driver's window about a 1/4 down. Next I parked the trailer in the garage for the night.
This morning, with the front wheels strapped down and rear straps to the undercarriage, I pulled a car on a trailer for the first time (ever)! I have towed my boat with my F150, but I wasn't sure how the heavier car and trailer would fair behind only an F150. My truck has a tow-package, but I expected a little drama since an F250 is more robust for this type of job. I was happy to find that the truck pulled the car down and back with zero drama!
There was a small chance of rain today and the R has never seen a drop of water (rain or wash). The PDR process took way longer than I expected, but in the end, I made the round trip without so much as a sprinkle coming down. That was a relief! A BIG "kudos" goes out once again to my PDR guy. He actually worked on my car outside on the trailer vs. in his shop with lighting he can control. If anyone needs PDR work in DFW, holler and I'll give you his info.
A bit of elevated heart rate on the return drive: I was coming back up the freeway when 2-dump trucks each pulling fully loaded trailers merged right beside me. I ended up in front of them, but they were in a hurry and forced me to drive faster than I planned to stay ahead of all the rocks they were spewing.
Summation of the trip: car was successfully trailered to/from with no drama. Dings were erased like they were never there. Car stayed dry and the Uhaul trailer worked like a champ. One "funny" note... When I dropped the trailer off, I did my walk-around inspection. It was THEN that I noticed there were releases on the driver's side fender to rotate it down and out of the way (possibly) of the driver's door! I don't think the Uhaul dude knew this since it was not in his otherwise thorough brief. This would have been good to know.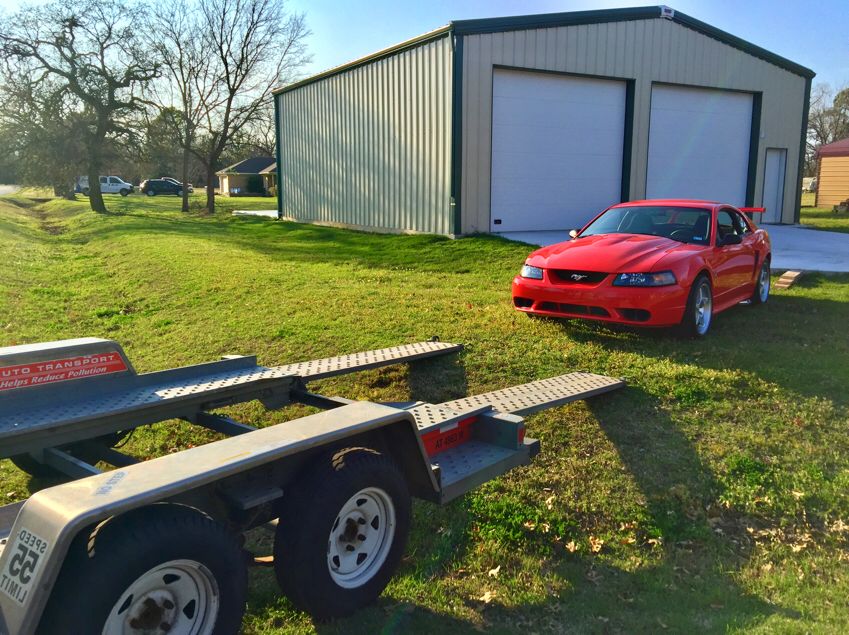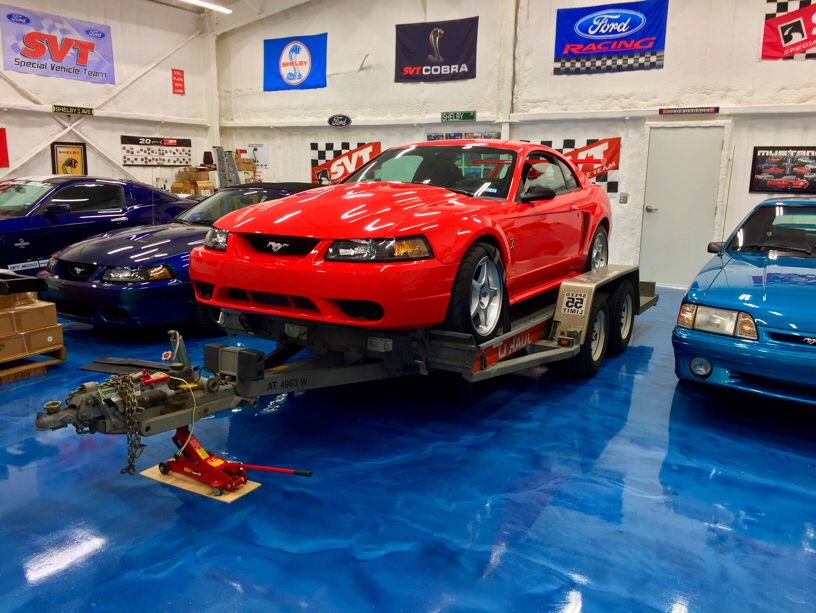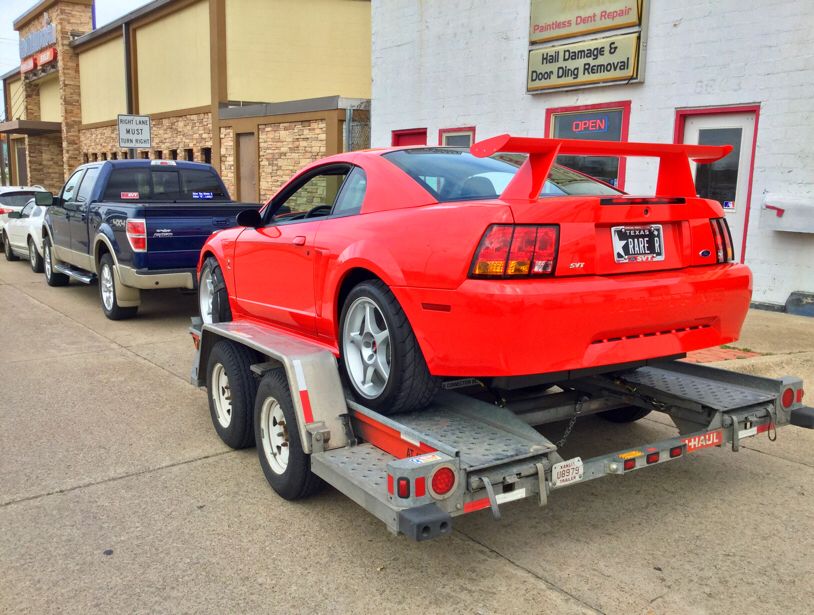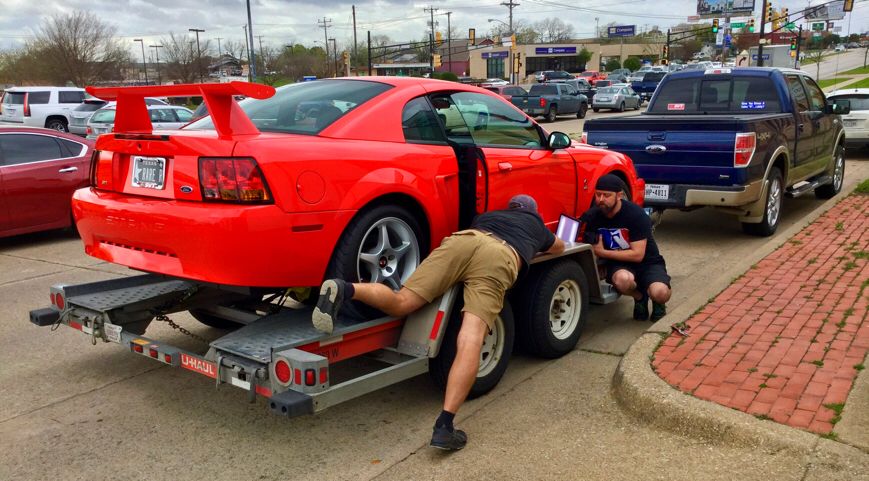 _________________
'11 GT500 FR750 2.9 Whipple, '04 Mystichrome Terminator vert, '02 Mustang GT, 00R, '93 Cobra #1447, '89 Mustang GT vert.